Quadcopter Live Video Quality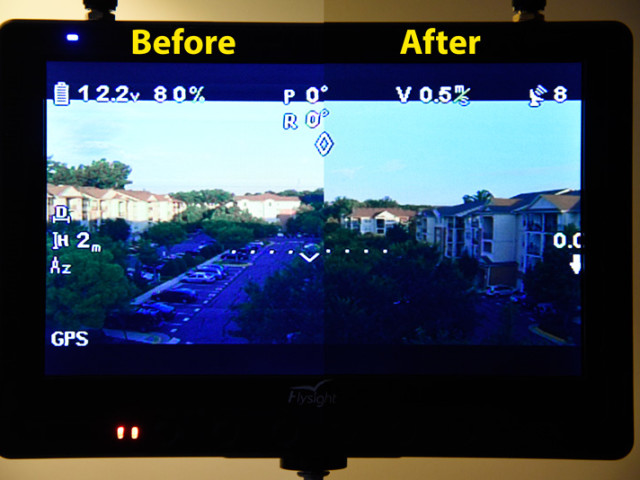 My real-time video downlink for the DJI Phantom 2 is now comprised of the ImmersionRC 5.8 GHz video transmitter, the DJI iOSD mini on-screen display, and the Flysight RC801 Black Pearl LCD monitor and receiver after initially using the 5.8 GHz Video TX RX Set FPV system from RC Logger for live video from the DJI Phantom.  There are several online sources for a pre-made cable so the VTX and OSD can be installed without any soldering.  Video quality with this setup is good.  I don't fly particularly far away, so I'm not too concerned about range, but I have installed the BlueBeam Ultra Antenna Set for improved reception.  As expected with a 5.8 GHz video system, I get occasional video interference as the signal path is blocked, but this is intermittent and doesn't get in the way of flying.
However, more annoying has been the presence of rolling bars in the downlinked video signal.  My video production background tells me this is some kind of a grounding problem – but other than checking connections and rearranging cables, I don't have enough of an engineering background to troubleshoot a solution to the rolling bars interference.
But I did find a brilliant solution to the problem on YouTube.  It's in Dutch, but includes a visual of taping over certain connections on the ribbon cable that runs from the Zenmuse H3-3D to the GoPro USB connector.  Take a look:
Blocking the power connections on the ribbon cable eliminates the rolling bars while allowing the video to pass from the GoPro, to the Zenmuse, and on through the video transmitter.  The result is outstanding, interference free, downlinked video!  It's not the best visual – but here is a before and after comparison:
The downside of this solution is that the Phantom no longer provides power to the GoPro to recharge the GoPro battery.  But the reality is that while flying and recording the GoPro always depletes its battery at a faster rate than the Phantom can recharge, so I don't think this is much of a compromise.  I'm finding that a GoPro battery is lasting as long as a Phantom battery.  So with two Phantom batteries I fly, land, swap GoPro and Phantom batteries, and fly again.  To speed up the process of changing the GoPro battery I'm using the Shapeways GoPro Zenmuse H3-3D Bracket.  Fly safe!