Galápagos Photo and Video Workflow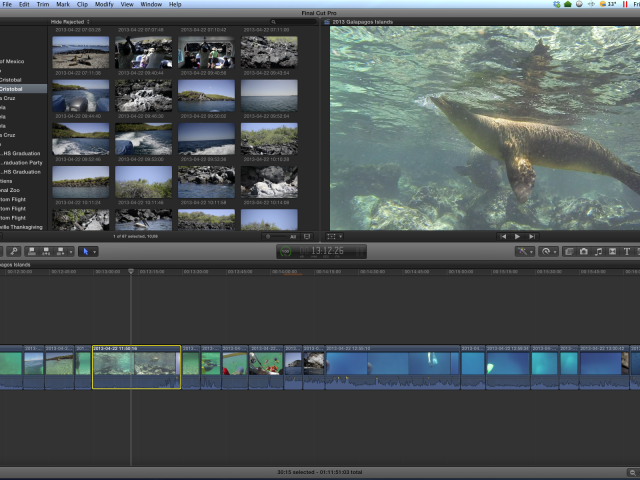 Two weeks after returning from the Galápagos Islands Adventure I'm finally done transferring the trip photo and video files from the SD cards to the computer. The transfer was delayed by a hard drive failure, but the drive is replaced, the most recent backup is restored, and now I'm back on track. Seems like a good time to review the workflow I used while on the trip and now back at home.
The Nikon D600 holds two SDHC memory cards. For this trip I brought along two 32 GB Lexar Professional SDHC Class 10 cards for primary storage and two 16 GB Lexar Professional SDHC Class 10 cards for backup.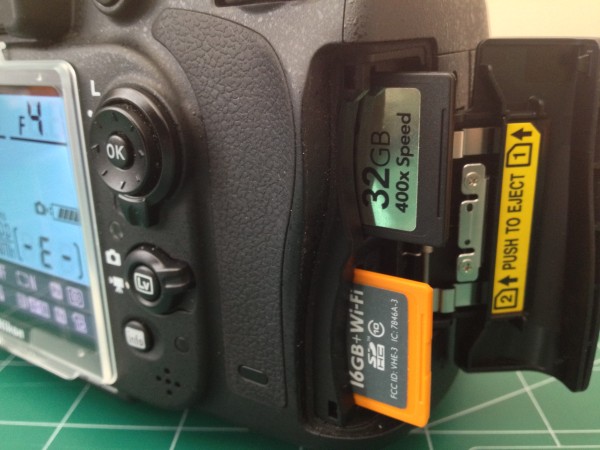 At roughly 30 MB per raw photo (NEF format), each 32 GB card should hold about 600 images. I used a 32 GB card in Slot 1 of the D600 to store the raw files. In Slot 2 I used a 16 GB Eye-Fi Pro X2 SDHC card, with the D600 set to store medium size backup JPEGs at about 2 MB per image. Normally I set the resolution of backup JPEGs at full size, but the medium size seems to work better with Eye-Fi transfer to other devices. (More about that part of the workflow in a bit.) The D600 is also set to store movie files on the Eye-Fi card. At the end of the trip I had 930 images on the 32 GB card in Slot 1 totaling 25.76 gigabytes. That's a shooting ratio of about 100 images per day – pretty normal for me on a sightseeing trip. The Eye-Fi card in Slot 2 held 220 movie files. The backup JPEGs and the movie files totaled 8.32 gigabytes on the Eye-Fi card. I also brought along a GoPro Hero 3 Black with a Transcend 32 GB microSDHC Class 10 card.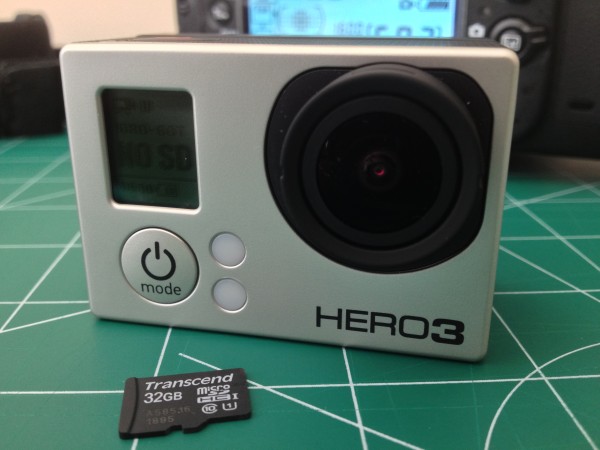 I used the GoPro to record 73 mostly underwater movie files totaling about 6 gigabytes. Between the D600 and GoPro I digitized about 1 hour and 11 minutes of video – more than twice as much compared to previous trips.
In addition to serving as an SDHC storage device, the Eye-Fi card can connect to a WiFi network, or can establish a direct wireless network connection with an iOS or Android device. While on the trip I used the Eye-Fi app on my iPhone several times each day to download the most recent pictures from the D600 to the iPhone. By the end of each day I had a copy of all pictures on my phone ready to be used in a blog post update.
While away from home I used the WordPress iOS mobile app to draft and publish daily posts to mliberman.com. And with the daily pictures already downloaded to the iPhone via the Eye-Fi app, incorporating pictures into the daily Galapagos updates was easy. Emailing pictures to fellow travelers on-the-go was easy too. (Note: As an alternative to the Eye-Fi card I could have used Apple's Camera Connection kit – but that's one more item to carry and not quite as elegant as the direct wireless Eye-Fi solution.)
Now that I am home, I am using my standard workflow for photos and video. I've been using Adobe Photoshop Lightroom since version 1.0 for photo management and editing.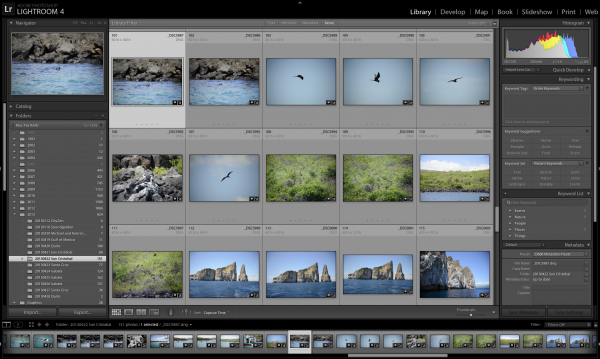 Now on Lightroom version 4.4, I import (to folders named by date and location or event), delete (duplicates and rejects), rename (by location or event with sequential numbers), keyword, geoencode, caption, and post-process.
All video is digitized (to events named by date and location or event) in Final Cut Pro X.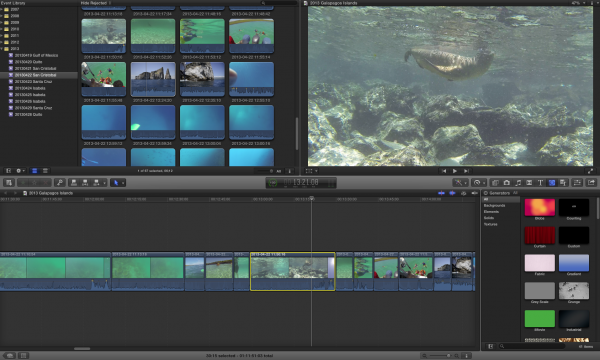 FCPX takes care of renaming files by date and time. To save hard drive space I don't transcode to high quality media on import, instead leaving that for later in the edit process. I do review each shot and delete any unneeded or duplicate material.
With everything digitized I confirm onsite and offsite backups are complete and then reformat the SDHC cards for use on the next project. With the data management part of the workflow complete, now the fun starts. For the Galápagos Islands trip I'll do my usual travel video, but I am also thinking about editing a second video highlighting the underwater clips from snorkeling at Isla Lobos, Kicker Rock, and Cabo Rosa. With the photographs I will post a trip gallery here on the blog, make a book, and some prints for family and friends. Hopefully I can get this done in a reasonable amount of time! 😉