Cuba Photo and Video Workflow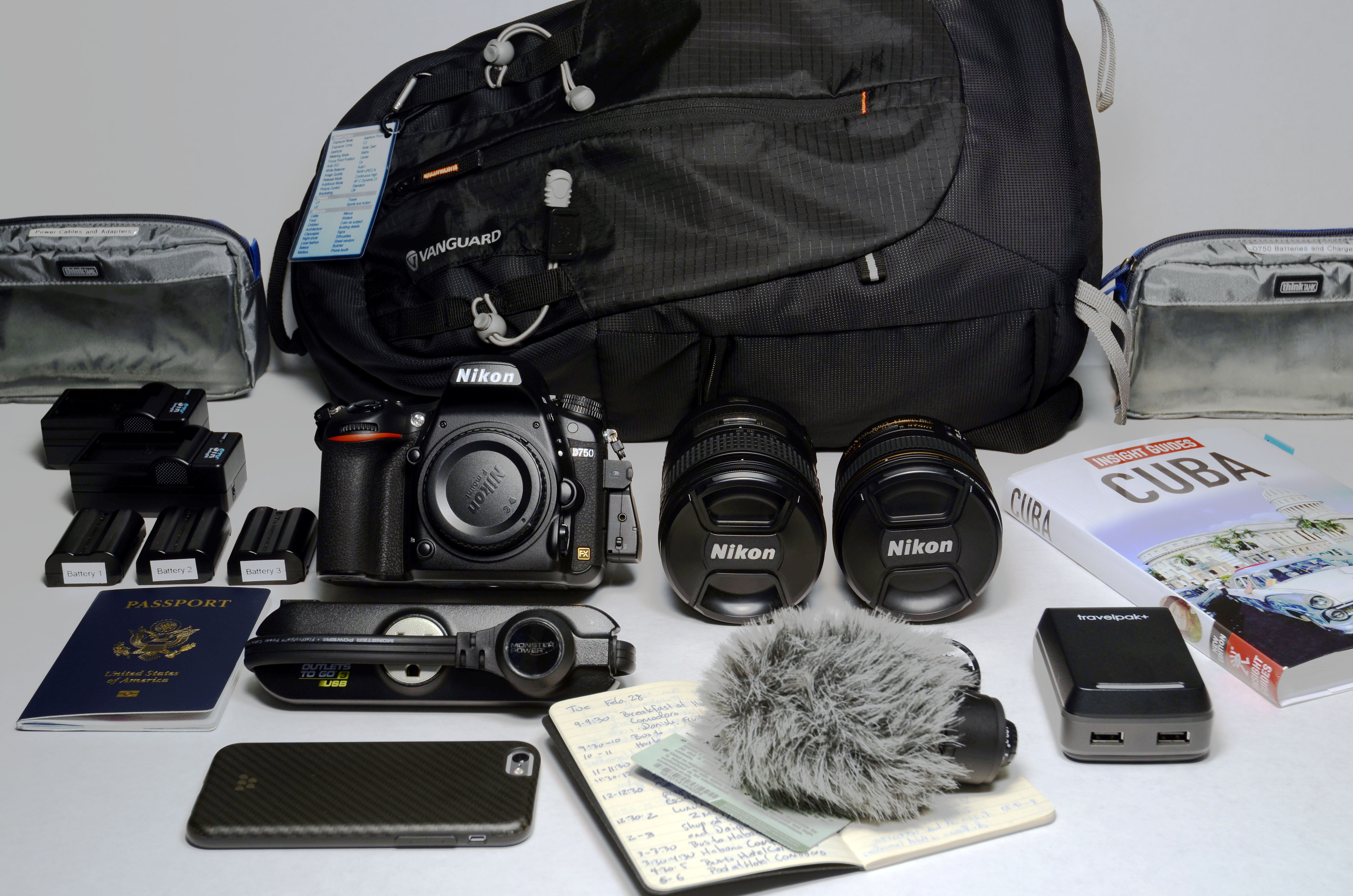 Workflow!! For Brad and Gina, this is the post they have been waiting for …
It's been about 6 months since the Cuba trip and I'm way overdue on an update on the Cuba photo and video workflow. Right after getting back from the trip I downloaded the photo and video files to my desktop computer and backed up onsite and offsite. As I did for Peru, Galapagos, and South Africa, here is a review of the photo and video workflow for Cuba.
I brought along mostly the same gear for Cuba that I've used recent trips:
Nikon D750 24 MP FX DSLR (Although it's tempting to go with a smaller format camera, the D750 is great for travel!)
AF-S NIKKOR 28-300mm f/3.5-5.6G ED VR Travel Zoom (I really enjoying traveling with this lens. Great image quality and range from a single lens in a size that works on planes and buses.)
AF-S NIKKOR 24mm f/1.4G ED Wide Angle Prime (My favorite, but least used lens. Not very practical for travel considering the added weight in the bag and factoring in the actual amount of use. But for low light situations and bokeh like butter, it's hard to leave home!)
Vanguard Kinray Lite 45 backpack (A great travel bag, but unfortunately no longer made by Vanguard. Holds a full frame camera and a couple of lenses with ease and enough room leftover for a creatively-packed change of clothes. Works for carrying photo gear on a plane and as a daypack moving through the daily itinerary.)
Monster Power Outlets To Go travel extension cord (This short cord extension is all that's needed. Three outlets for a couple of camera battery chargers and the Newtrent Travelpak+.)
Newtrent Travelpak+ travel battery and USB charger (I keep this in the bag during the day to charge the iPhone. At night it's an iPhone charger. Great travel accessory, but longer made by Newtrent.)
Nikon ME-1 microphone (I don't use this as often as a should. The Aokatec AK-G750 GPS receiver must be removed from the D750 accessory terminal in order the plug in the ME-1. But much better than the D750 internal mic and great for windy conditions.)
Batteries and chargers
Memory Card and File Management
For the Cuba trip I brought along two 64GB 1000x Lexar Professional SDXC Class 10 cards and two 64GB 600x Lexar Professional SDHC Class 10 cards.
Each 64GB card holds about 1,500 12-bit NEF files. (See 14-bit vs 12-bit RAW – Can You Tell The Difference at Photography Life.) I used a 64GB card in slot 1 of the D750 to store raw photo files. In slot 2 I used a 64GB card with the D750 set to store Large size JPEG normal quality backups at about 10.2MB per image.
About halfway into the trip, I swapped out the initial set of cards for the second set. At the end of the trip I ended up with 972 picture files totaling 25.26GB. That's a shooting rate of 97 per day – close to my average of 100 photos per day on international trips. In addition to JPEG backups, I used the slot 2 card for movie files and ended up with 296 movie files totaling 24.17GB. The movie file count also includes iPhone 6S movie files for some additional timelapse sequences.
WordPress Blog Updates
For the daily trip blog updates I used the D750's built-in Wi-Fi to connect via the Nikon Wireless Mobile Utility installed on my phone. Once connected it was easy to select pictures to transfer to the phone, and then incorporate those photos in the daily trip blog updates using the WordPress Mobile App. Not so easy was getting a reliable Wi-Fi connection in Cuba. Internet access was purchased by the hour and only available in hotel lobbies. Disconnections were frequent and required re-entering a lengthy sequence of numbers. The daily blog updates sometimes took an hour each day to complete.
Photo Workflow
My stan­dard work­flow for pho­tos and video remains the same. I'm still working with Adobe Light­room CC for photo man­age­ment and editing – using the Creative Cloud Photography plan.
The simplified version of the workflow is:
Import as DNG (to fold­ers named by date and loca­tion)
Delete (dupli­cates and rejects)
Rename (by loca­tion or event with sequen­tial num­bers)
Key­word
Geoen­code
Cap­tion
Post-process
Video Workflow
Video files are dig­i­tized using Apple Final Cut Pro X to events named by date and loca­tion. After import files are renamed by date and time. All movie clips on this trip were shot at 1080p and 60fps.
With all trip photo and video files transferred I con­firm onsite and off­site back­ups are com­plete (using CrashPlan to manage both backups) and then refor­mat the SDXC cards for use on the next project. Now it's time to get to work on the photo gallery, book, and the trip video!