India Day 3: Old and New Delhi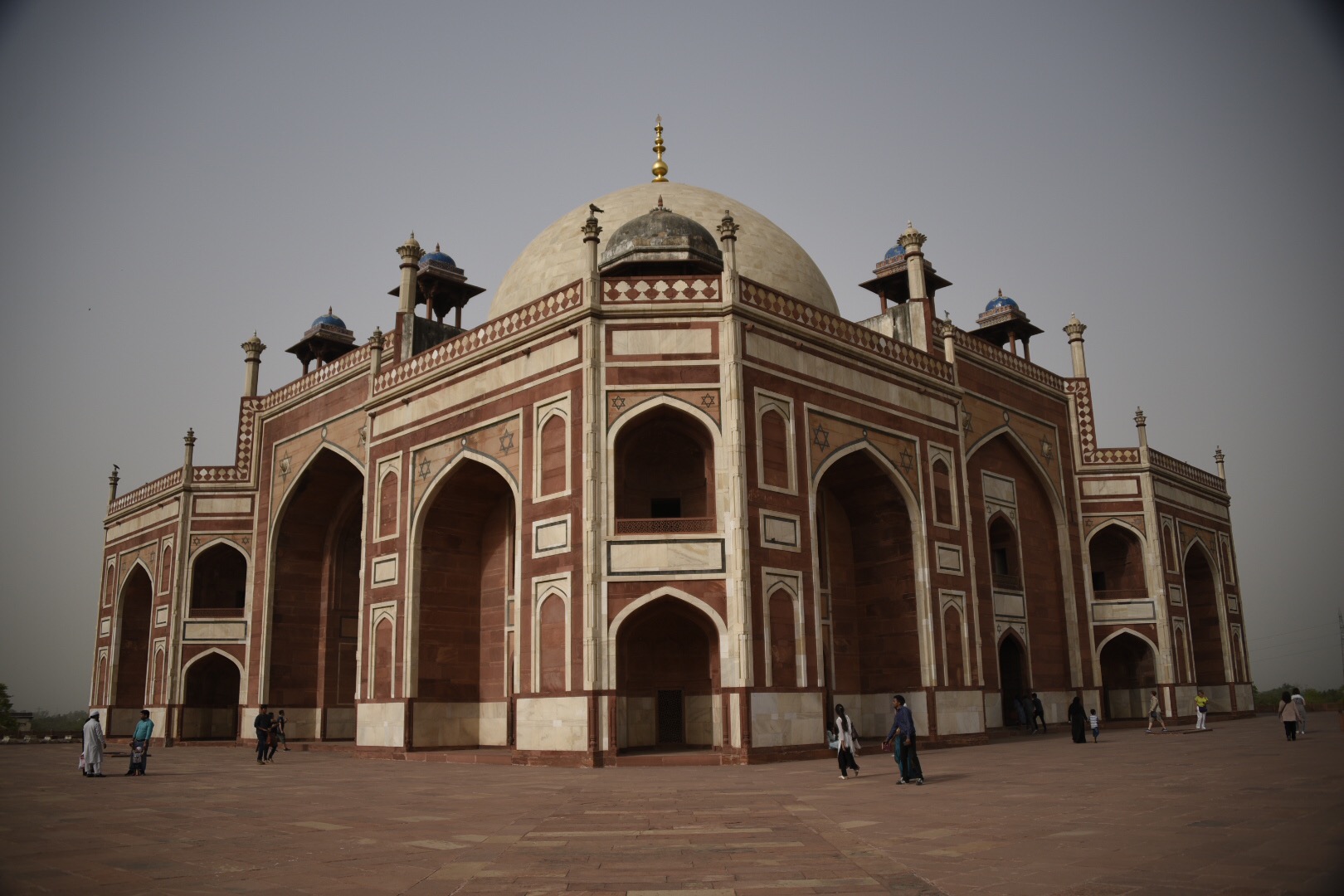 We arrived in Delhi late Friday night, passed through immigration and customs, and met Unni, our tour guide for this trip. Driving from the airport to the hotel late at night we couldn't see much of Delhi in the darkness, and the city was enshrouded by a dust storm. By the time we checked in at the Radisson Gurugram, and I unpacked and reset for today's sightseeing, I get to sleep about 2:30a.
This morning we meet in the hotel for a quick review of the itinerary with Unni. Then we board our bus for a drive from New Delhi through Old Delhi to visit the Jama Masjid Mosque. This religious site requires that everyone wear special coverings and, like all temples in India, no shoes are allowed. Unni recommended that we all bring "temple socks" to wear when no shoes are allowed. Great idea, Unni!
Next Unni arranges for a rickshaw ride through the market around Jama Masjid. Sue and I share a rickshaw.  The market is jammed with people, shops, cars, rickshaws. Absolute total and complete sensory overload. I spend more time just looking than focusing on taking pictures. After the ride we are back on the bus – passing by Lal Quila, the Red Fort, and Mahatma Gandhi's cremation site – before stopping to exchange our dollars for rupees.
A couple of things to note so far … Our bus assistant provides a fresh bottle of water throughout the day. Much appreciated to know you've got a reliable source of water when visiting a place where the water quality is questionable. And the panhandlers and beggars who find you on the street are very aggressive. We knew this would be the case. I'm very popular. Not sure if my natural good looks make me appear to be wealthy or if it's the expensive camera I'm holding.
Lunch is at Lutyens Cocktail Lounge. There is a spinach thing, a lentil thing, a couple of cheese things, some naan bread and a Kingfisher Premium beer. I really have no idea what we ate but it was pretty pretty spicy and pretty tasty.
After lunch we explored Humayun's Tomb with its design and architecture similar to the Taj Mahal. Next a walking tour through the Qutb Archaeological Complex followed by traditional tea from Kashmir at the Cottage Industries Art Gallery.
Great first day in India!  Tonight we see an outdoor sound and light presentation of the history of Delhi projected on the walls of the Old Fort.  Tomorrow we head to Jaipur.