Southeast Asia Day 4: Mekong Delta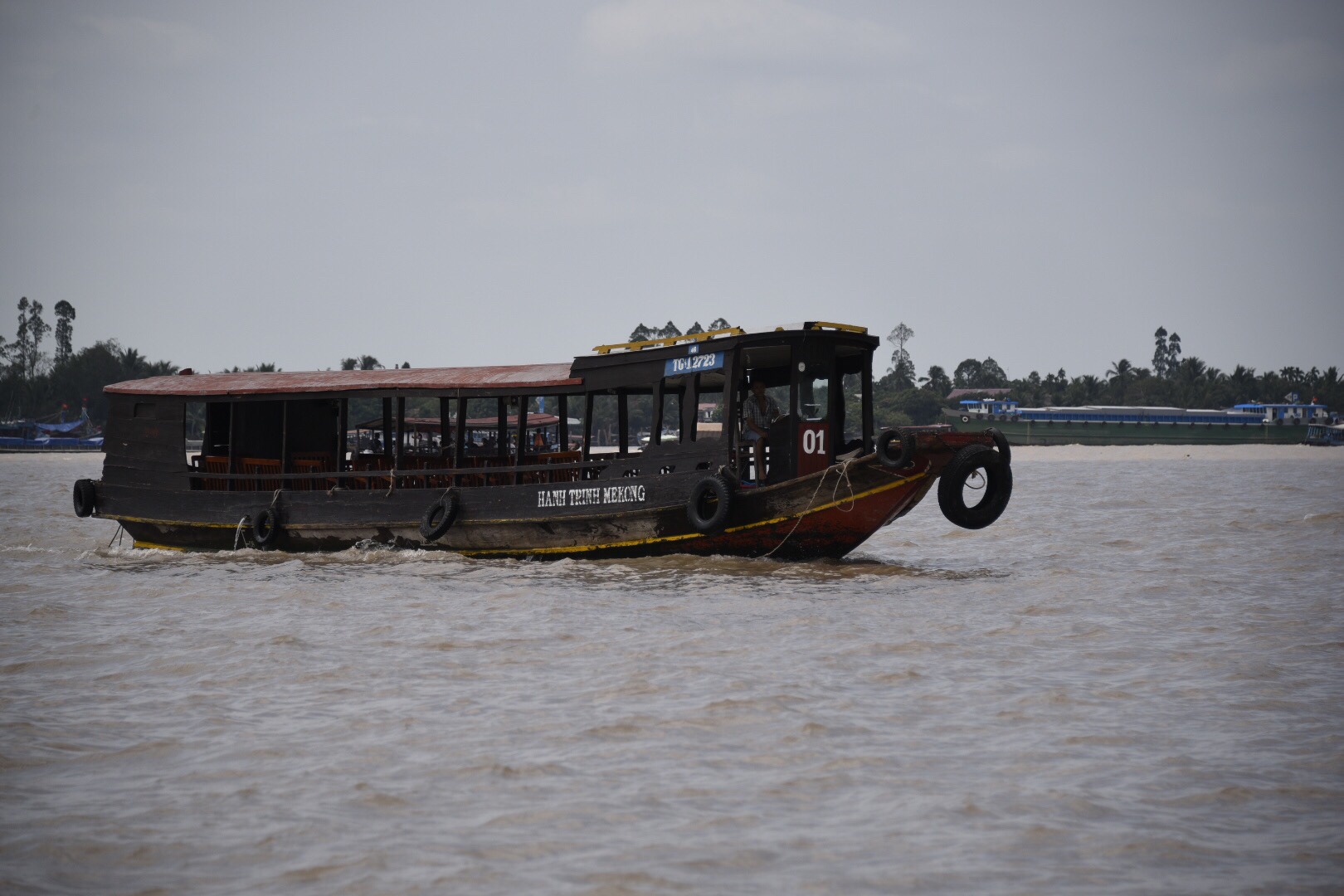 On the bus returning from the Mekong Delta …
While we are on the bus Khoi talks about daily life in Vietnam. Some interesting notes: Everyone in Vietnam starts the day with breakfast from a street vendor. Wake up. Head out to the street. Get breakfast. Then off to work or school. The better the motorbike you own, the better the parking space you can get. It's legal to have up to 2 adults and a child under 6 on one motorbike. Helmets optional for the child. Really! And we see as many as 5 people on a motorbike. In the north people drink tea. In the south people drink coffee.
Today we venture away from the city with a two hour bus ride to the Mekong Delta region. We board a river boat and take a short ride to one of the many islands in the Mekong River.
Our first stop is the Que Dua candy workshop. We sample the delicious handmade coconut candy. And some of us try the snake wine!
Next, we take a horse and carriage ride to a small village on the island. There we sample several kinds of Vietnamese fruit. Local women sing while we eat fruit and sip honey tea. Also, you can have your picture taken with a python. Cara, Mickey, Ron, Georgia, and Greg opt for this experience.
Then we take a short walk along a jungle pathway and climb into small rowboats that take us back to the river boat. On the boat we enjoy coconut milk right from the coconut.
We stop for lunch at the Mekong Rest Stop. It's better than it sounds. The restaurant is tucked away in the beautiful grounds. Peter picks a great selection of appetizers to share for lunch. The currency here is called the Dong. In the past Vietnam has experienced high inflation, so the denominations are very large. For five people our bill for lunch was 1.25 million Dong – or about $10 each.
Then we're back on the bus for the two hour return to Ho Chi Minh City. Tomorrow we fly to Cambodia and Angkor Wat – the next stop on our tour of Southeast Asia.