Southeast Asia Day 7: Siem Reap to Bangkok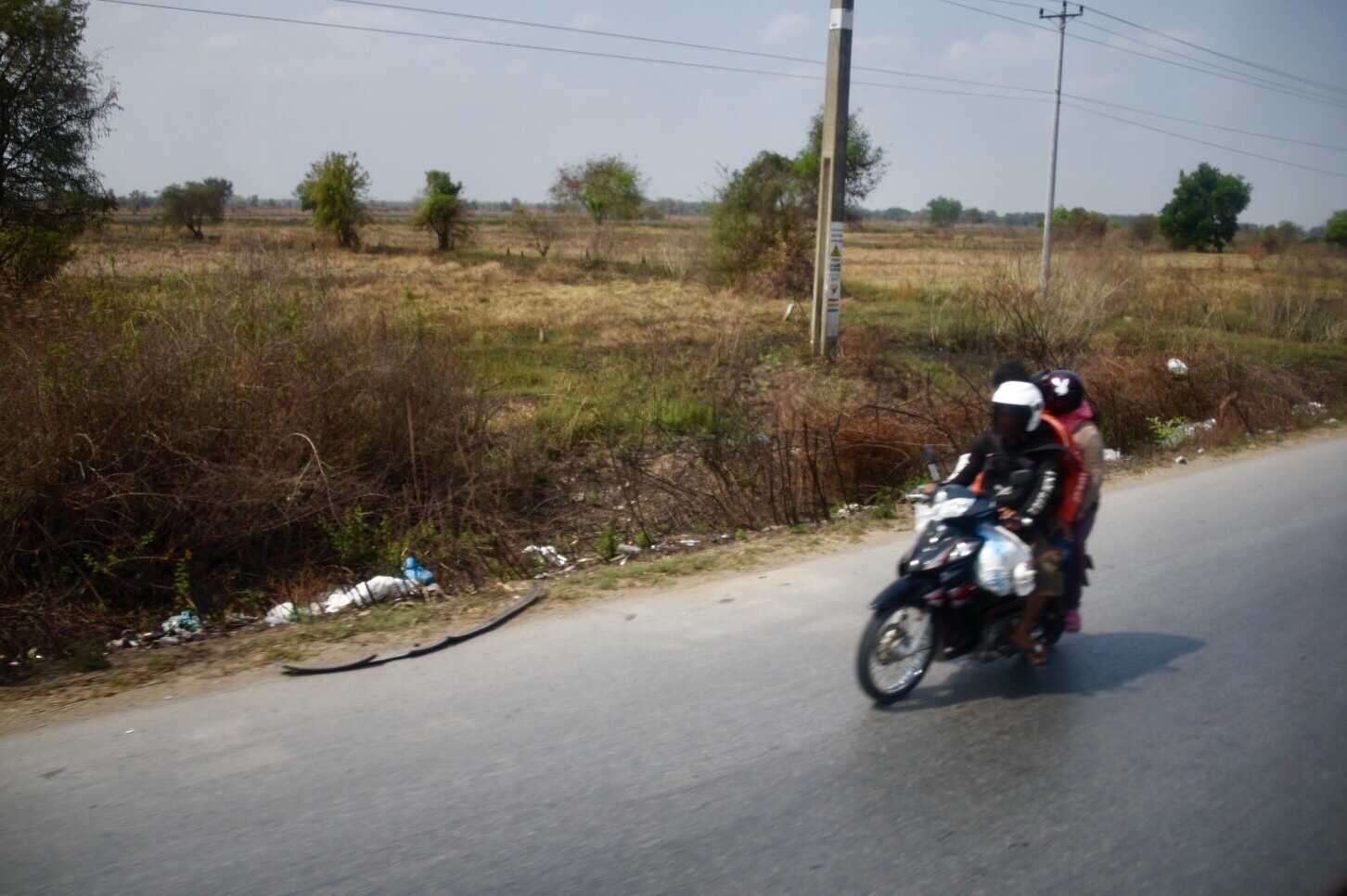 On the bus from Siem Reap to Bangkok …
We've already reached the midway point of this trip. The days seem to fly by. On a typical day we have breakfast at the hotel, go sightseeing for several hours, have lunch at a restaurant, and do more sightseeing for the rest of the afternoon. Some days we go directly to dinner. Other days we stop at the hotel for a break before heading out to eat. After dinner we've got time on our own, so we try and explore the city or town. Both Ho Chi Minh City and Siem Reap had vibrant, walkable nightlife areas, so it was entertaining to grab a beer and walk with the locals and tourists down what we've been calling the street of chaos while dance music and light pulses out of the nightclubs!
Today we're leaving Cambodia and heading to Thailand. We take Cambodian road NR6 out of Siem Reap to the Thai border city of Poipet (possibly also known as Poi Pet or PoiPet). The trip is about 150 kilometers, about 90 miles. But Cambodia doesn't have a national highway system, so the trip down the two lane road takes about two and a half hours. Cell coverage is actually pretty good along the way.
As we drive Thara talks about life in Cambodia. Much like the Vietnam War was an ongoing theme during our time in Vietnam, here it's about the ongoing recovery from the Khmer Rouge "Killing Fields" when over a million Cambodian's were murdered by the regime in the late 1970's. In Thailand we're visiting the bridge on the Kwai River and the cemetery of the 10s of thousands soldiers and slaves that died building the bridge, so the impact of war is a central theme of this trip to Southeast Asia.
I've blogged about it before. I really enjoy these transfer days on a bus. It seems like it might be really boring, but I find sitting on the bus and watching the countryside go by to be incredibly relaxing. It's a good time to catch up on the day's blog post. Yes – that's why today's post is longer than usual! And sometimes I'll focus on finding interesting things to photograph like towns along the way, motorbikes with unusually large loads, or strange farming vehicles.
We arrive at Poipet around 11a and pass through the departures office to have our exit paperwork processed and passports stamped. It takes our group an hour to get through the line.
Then, pulling our luggage, we walk past several casinos, over a bridge, and into Aranyaprathet, Thailand! Immigration processing to enter Thailand takes even longer than exiting Cambodia. Waiting in line we take bets to see how long the line will take. It's about about two hours to walk across the border, pass through immigration, and meet our Thailand tour guide.
We board our Thailand bus and head about 20 minutes down the road for lunch at SK. Steak. The sign outside says park your horse and stay a while. Sitting with Marguerite, Mickey, and Donna we each get the recommended Chicken Curry Soup and Curry Puffs. My first curry since India. It's actually pretty good.
It's the dry season in this part of the world. But while Vietnam was lush and green here in Thailand many of the fields along the road to Bangkok are brown. Like Cambodia it's arid and hot here. We'll need to hydrate tomorrow!
We're scheduled to arrive at The Heritage Bangkok hotel around 7:30p and we'll head out for a late dinner around 8p. More on Bangkok tomorrow. Thanks for reading!