Southeast Asia: Boston to DC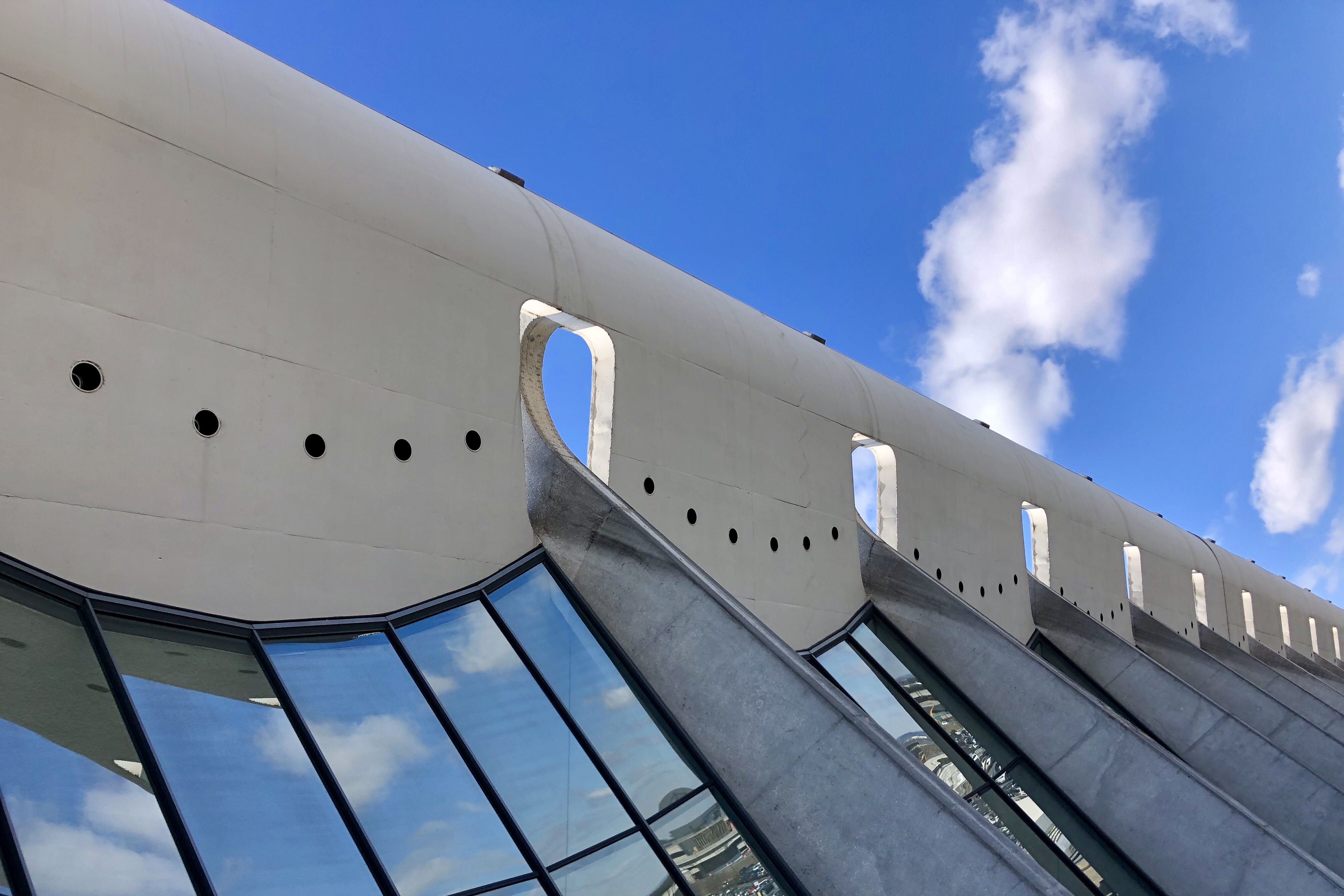 From home after a couple of days to catch up on sleep and unpack …
On Tuesday after a short but restful sleep at the nearby Courtyard Marriott I'm back on Eastern Standard Time and back at Logan for the return flight to DC. I swap travel stories on the shuttle to Logan with a woman returning from the Philippines and passing through Boston way back home to Nova Scotia. We both had lengthy flying days on Monday and appreciated the chance to rest up before continuing home. The airport is busy as airlines continue to get back on track following the recent snowstorm. They are still clearing snow from the airfield at Logan.
My first class return was lost when I rescheduled the trip to come up a day early due to weather a couple of weeks ago. No luck on the refund yet. I've been directed to call "reservations." I'll deal with that after I get home, but I do enjoy a couple of hours in the United Club lounge trying not to appear too surly that my plan for a comfortable seat after the 20 hour 8,500 mile flying marathon is a no go. United Flight 525 to Dulles features a lovely aisle seat in economy.
Sonia meets me at the airport for a ride back to our neighborhood. I always appreciate the opportunity to pass up the local ground transportation options for the last leg of the trip, so I am grateful for the lift! I drag my 46.7 pound suitcase up the three flights of stairs, open the door, bring in the suitcase and camera bag, and this adventure is done!
Back at home it's time to reflect on the trip – our tour guides, the countries we've visited, and my fellow travelers.
Explorica features an outstanding network of tour guides. They are more than just authorities on local history and culture. Dong Nguyen Khoi in Vietnam, Thara Ukbun in Cambodia, Suthep Pattanan in Thailand are logistics experts, information resources, and one-man concierge services. Khoi's heartfelt observations about the Vietnam War were moving, but he could also be a stand up comedian. We'll be talking for years about Thara's brilliant plan for the boat to boat transfer to get us on the Chao Pryaya River dinner cruise. Suthep's dining and massage recommendations were excellent and he read the entire travel blog!
We spent many hours traveling by bus in Thailand and our bus driver Aek was one of the best. Working without an assistant he loaded all the luggage, had tissue ready to hand out at each rest stop, and distributed cold water bottles, cool towelettes, and candy when we got back to the bus. And he helped Brad and Suthep with traveler counts to confirm we all got back on board. It's not uncommon for bus drivers on these trips to sleep on their bus. Aek did the same. After dropping us off at a hotel he would find a place to park the bus and stay with the bus for the night before picking us up the next morning.
If you travel to this part of the world, consider seeing these three countries on the same trip. Recovery from recent wars is ever-present … the "American War" in Vietnam, the civil war in Cambodia, and World War 2 in Thailand. But even more present is the kindness and generosity of the Southeast Asian people. Everywhere we went people were always friendly and willing to assist a group of tourists.
In all three countries there are street vendors everywhere and at all hours of the day or night. People in Southeast Asia love food from a street vendor. In all three countries motorbikes are the primary means of getting around. Motorbikes are a great way to beat traffic, so much so that in Ho Chi Minh City we frequently saw people get around stop lights just by driving on the sidewalks. In many cases in Ho Chi Minh City sidewalks were blocked by street vendors and motorbike parking requiring stepping into the street to get around the blockage. Maybe it was just the places where we stayed or maybe it's a local preference, but the beds in Cambodia and Thailand were as hard as those we encountered in China.
This was my 8th trip with Brad and the Milford travelers, dating back to the China trip in 2009. International travel with a group of experienced travelers is key and makes traveling with this group of people a great experience. Brad is a master planner and these trips go so well based on his ability to read the group and make adjustments to the itinerary on the fly when needed. It's always a pleasure when Nancy, Georgia, and Sue join Brad. They are great to travel with and now Sue has new luggage as a souvenir from this trip.
Ron's hearty laugh and unmistakable camera shutter are always welcome to hear – even knowing I will have to edit them out of the video. He doesn't miss anything and his photo documentation of the trips is outstanding. Marguerite has been on all of the Dr. Craven trips I've been on. If she had been my Spanish teacher I might have actually learned Spanish. She is also a FitBit master. I cannot keep up with her steps! Carol is always a joy to travel with and she can identify the local birds no matter where we are in the world. I spent close to 35 hours sitting next to Phyllis on the way to Hong Kong and back. We are inherently in sync on an airplane. I would sit with Phyllis on a flight to anywhere in the world. Greg P is an accomplished traveler and could be a one-man economic development office for Milford. I'm ready to relocate!
Bernie always keeps things light with a joke or witty remark. Jessica has a great eye for finding the perfect photo locations. I'll admit to following Jessica around for a great angle. Jimmy is a regular traveler. Sometimes his mom Carmen comes along and sometimes his aunt joins us. On this trip it's great to spend some time with aunt Anayansi. Cara is an experienced international traveler and a masterful phone photographer.
Sometimes Shannon and Peter host a couple of overnights while we are meeting up and leaving Boston, but it's a lot more fun when they are on a trip! An extra bonus is their perpetual search for good Pad Thai and Dim Sum guarantees an excellent meal no matter where we are in the world. Greg H was also on the Peru trip. He is a keen observer of anyplace we are visiting with a wry sense of humor.
It seems like we only see each other in another country, but no matter where we are it's always great to spend time with Mickey and Donna.
Whether it's proofreading the daily posting, providing suggestions for the blog, or sharing photos on the bus Mickey and Donna are great friends to travel with. I'm always looking forward to our next great adventure!
Thank you to those of you who followed along and read the daily postings! Here are some of my favorites from Vietnam, Cambodia, and Thailand …